Recruitment, Engagement, and Retention Core Charter--NEED TO UPDATE
This charter document delineates the GEAR 2.0 ADC Data/Informatics Core Group project purpose, goals, and participant expectations. Contact information: Ula Hwang, MD, MPH ula.hwang@yale.edu TBD Project manager
The RDW is currently open to GEDC member sites and their authorized staff ONLY. Only sites that contribute data can conduct analyses within the environment.
A fully integrated research and resource network comprised of experts in emergency medicine, geriatrics and Alzheimer's Disease and related dementias (ADRD) that identifies research and practice gaps in the emergency care of people living with dementia (PLWD) and establishes strategies to resolve these gaps.
To develop collaborations, resources, and research infrastructure to foster transdisciplinary researchers in the emergency care of older adults with ADRD and their caregivers.
Phase 1 Aims (R61):
Identify and propose strategies to address research gaps. Establish the GEAR 2.0 ADC infrastructure. (Yr 1-2)
Determine research priorities for ED care of PLWD and their caregivers using a consensus process in four domains: 1. ED practices, 2. ED care transitions, 3. Detection, and 4. Communication and decision making.
Determine the strength of available evidence by systematically conducting scoping reviews.
Prioritize research and practice gaps in emergency care for PLWD by convening a transdisciplinary stakeholder taskforce meeting.
Establish GEAR 2.0 – ADC governance and operations to support R33 pilot studies by partnering and leveraging transdisciplinary networks and organizations: including GEDC, ADRCs, and GEAR 2.0 Cores: 1. Administrative, 2. Research, 3. Data/Informatics, and 4. Dissemination & Implementation.
Phase 2 Aims (R33):
Support research strategies. (Yr 3-5)
Solicit, review, select, and fund research that will lead to future full-scale proposals addressing research gaps in emergency care for PLWD and their care partners.
Deploy resources to support collaborative emergency care dementia research.
Project Successfully Complete When:
GEAR 2.0 ADC is considered impactful if it expands research optimizing the emergency care and health of PLWD and their care partners. Success is determined by pilot studies transitioning to full-scale funded projects or by expanding the collaborative network.
II) Data/Informatics Core Purpose and Goals
Data/Informatics Core Description
The Data /Informatics Core will support pilot grantees to navigate challenges in emergency care research with PLWD and their care partners. It will provide guidance on the Research Data Warehouse (RDW) supported by the West Health Institute (WHI).
Data/Informatics Core Specific Aims
The Data/Informatics Core will support GEAR 2.0 pilot studies in 4 specific ways during the pilot grant period:
Support identification of appropriate data sources for requested metrics at their institution,
Guidance on data preparation for transfer via a standardized template,
Technical transfer of data to the RDW, including addressing any security assessments,
Validation and testing of data transferred to the RDW.
Ula Hwang, MD, MPH D/I Core Lead/PI Representative Yale University ula.hwang@yale.edu
Cynthia Brandt, MD MPH
Yale University
cynthia.brandt@yale.edu
Juhi Israni, MS
West Health Institute jisrani@westhealth.org
Responsibilities & Expectations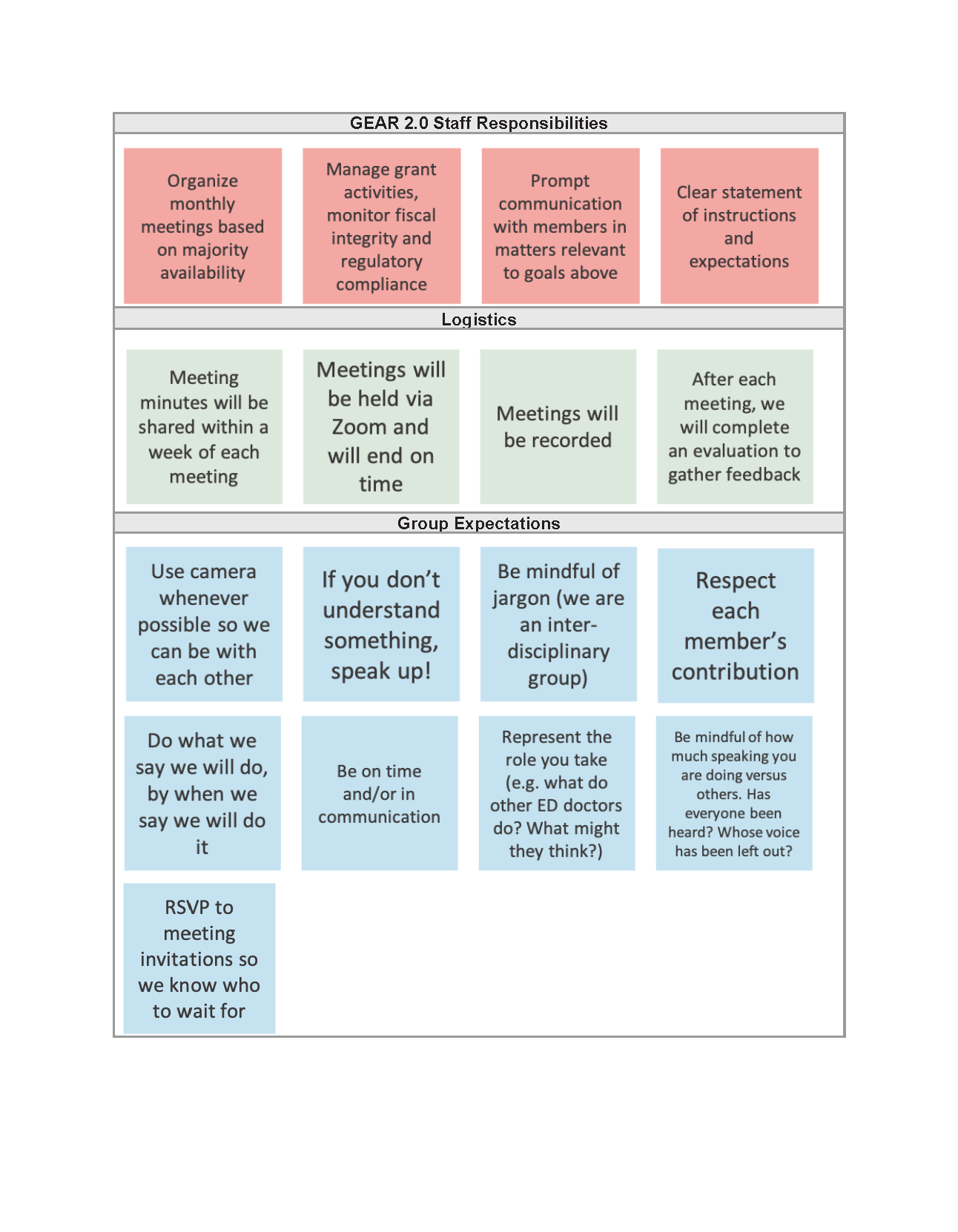 Links to Other Information